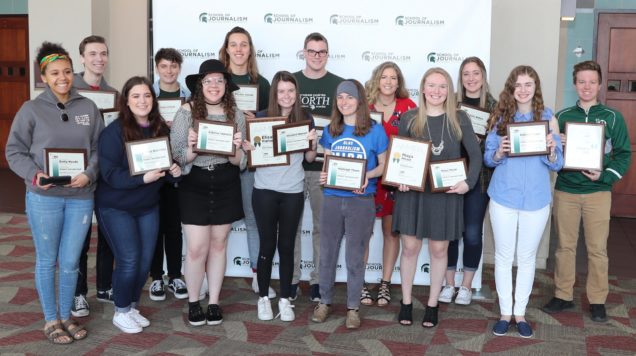 MIPA's Student Journalist Staff annually recognizes Michigan's top student journalists. This is our all-state student journalist team. Members of the Student Journalist Staff are graduating students who excel at their student media outlets. They are selected based on portfolios of their work.
Each MIPA member school may submit one candidate for consideration in each area of primary interest on the Student Journalist Staff: news writing & reporting, news design, yearbook writing, yearbook design, broadcast, photojournalism and digital media.
How to Submit a Portfolio
The deadline for this contest is in February. Student Journalist Staff members will be recognized at the MIPA Spring Awards in April.
Carefully review the application requirements. We have assembled detailed instructions and provided guidance on putting together a portfolio, including help videos, frequently asked questions and links to portfolios that were recognized in past years.
Once you have all of your materials together, complete the application form. The form does not save your responses until you submit it, so if you leave the form at any point before submitting you may lose your work.
Judging
Are you an adviser interested in judging Student Journalist Staff porfolios? Contact ask@mipamsu.org at least one week prior to the contest deadline to be assigned to a judging committee. Please include in your email the names of any students submitting portfolios into this year's contest and to which area of interest they are applying. Judges work remotely and must complete their work in the two weeks following the contest deadline. Thank you!
A panel of at least two judges will evaluate the portfolios in each of the areas of interest. Judges may not work in any area of interest in which they have a student entered.
Related Honors
All-MIPA Scholarships
MIPA will honor several members of the Student Journalist Staff as All-MIPA. All-MIPA honorees are the best of the best in their area of primary focus. Each All-MIPA winner will receive a $500 scholarship. Honorees are selected based on their Student Journalist Staff portfolio.
Journalism Education Association Journalist of the Year
One member of the Student Journalist Staff will be selected as Michigan's representative in the Journalism Education Association's national Journalist of the Year competition. The JEA JOY Michigan nominee is selected based on their Student Journalist Staff portfolio.
Previous Student Journalist Staffs & Portfolios